SafeTALK Training
SafeTALK is a half-day alertness workshop that prepares any adult, regardless of prior experience or training, to become a suicide-alert helper. This training is targeted at members of the Macedon Ranges community who wish to learn how to support those who may be thinking of suicide.
All training sessions are for 18+ and minimum numbers are required for training to proceed. Further information (venues, etc.) will follow - keep an eye on this page, our Facebook page and the local paper for updates.
Our next workshop is:
When: Saturday 9 November
Time: 9 am - 12.30 pm
Where: Kyneton Youth Space, Hutton St, Kyneton
To find out more or reserve your place at one of our sessions please email info@mrspag.com.au
You can also find other training workshops here: https://www.livingworks.net/training-and-trainers/find-a-training-workshop/
We run sessions for employer and volunteer groups. If your business, agency or organisation would like to host a session, please email us to register your interest.
Please see below for a sample of our testimonials:
"Training was great, it was good to hear suicide talked about in a factual and realistic way instead of a negative way. Makes you feel like you can talk to others if you have concerns for their wellbeing without offending them or losing their friendship/relationship."
"It was very well presented. A calm and supportive environment".
"Very inclusive for staff at a workplace - quite comprehensive."
"Very helpful, would love to have all community members have this training including kids/teens."
"Well presented and practical advice to implement these life saving skills."
"Very well done-thanks so much."
"The training was excellent, it was engaging and practical and both trainers were passionate and knowledgeable about this topic and presented very, very well!"
Of the 31 participants who have completed training sessions this year, 29 people rated the course 8/10 or higher, with 17 participants rating the course 10/10!


Calling those who wish to join our collective voice
Many people within our communities have a lived experience of suicide -
be that through having experienced suicidal thoughts, survived a suicide
attempt, cared for someone through suicidal crisis, or being bereaved
through suicide.
Your voice, your insight and wisdom is critically important to guide
suicide prevention work
All Roses in the Ocean programs and workshops are lived experience informed, designed and delivered
by professional facilitators who also have a personal lived experience of suicide.
'Our Voice in Action' is a 2 day capacity building program designed to develop the skills required to
meaningfully participate in suicide prevention activities, encourage connectedness, self-care and gain clarity
in what direction you would like to lend your lived experience voice to. It provides the framework to explore
your lived experience and how it can be combined with other skills for the greatest influence and impact.
Here is the outline of the program
Peer Support after Suicide nights - click here for 2019 Calendar
Youth Mental Health First Aid Training -
Aimed at parents, teachers, carers and other interested community members. The course teaches adults how to assist adolescents who are developing a mental health problem or in a mental health crisis. Course participants learn about adolescent development, the signs and symptoms of the common mental health problems in young people and some crisis associated with these. Courses are run through Macedon Ranges Live4Life initiative and can found here
What's been on
On Monday 11 December, members of MRSPAG and Council officers welcomed Tony and Liane Drummond to Kyneton. Liane and Tony are walking around Australia to draw attention to suicide and mental health after losing her son to suicide.
MRSPAG Peer Support After Suicide Group members welcome Tony and Liane
Creative Arts Therapy session @ Peer Support After Suicide
Marita Jacobsson worked with participants to create a group creative arts piece.
Arts therapy is a form of counselling using the arts in varying forms to create and make meaning. It can be especially helpful when words are hard to find and express. No prior arts experience is necessary - the emphasis is on the process rather than the final product.
Macedon Ranges Suicide Prevention Walk, 2018
More than 200 people walked in Woodend on Sunday 9 September, World Suicide Prevention Day, to raise awareness of suicide prevention. Hosted by Macedon Ranges Suicide Prevention Action Group, for the first time the Walk route included the High Street service road.

The Walk was an opportunity to remember those lost to suicide, their families and friends; and to acknowledge those who have attempted suicide and those with suicidal thoughts.
'Working Together to Prevent Suicide' was the theme of this year's World Suicide Prevention Day and Macedon Ranges Suicide Prevention Walk.
It also complements the efforts of R U OK? a suicide prevention charity who encourage people to take the time to notice what's going on with family, friends and colleagues – and oneself. It is about taking time to have those conversations when you notice something has changed and equipping yourself to help yourself and others.
MRSPAG would like to thank all those who attended and lent support to this event. We are better together.
MRSPAG Suicide Prevention Forum, 2017
More than 50 people joined a forum hosted by MRSPAG in Woodend on 28 June 2017 to explore ways the community can work together to prevent suicide in the Macedon Ranges.
The forum began with two speakers who have lived experience of suicide – MRSPAG Deputy Chair Noelene Ward shared her moving story of losing her son to suicide and Andrew Rogers spoke openly about his lived experience as a suicide attempt survivor.
Both speakers highlighted that as a society, Australia does not deal well with the issue of suicide or understand the extent to which the community could support people with mental illness. Talking about suicide and suicidality can be difficult, but both speakers stressed that discussing these issues in a responsible, safe way as a community can help to prevent suicide.
The ideas and discussions from the forum will inform MRSPAG's action plan and future activities.
Members of MRSPAG extend thanks to community members and service providers for sharing their ideas as well as to forum facilitator Tim Adam, Woodend Rotary, Macedon Ranges Shire Council, the Anglican Parish of Woodend-Trentham, Kyneton Lions, Openhouse Macedon Ranges and Gisborne Rotary for helping make this event possible.
Out of the Shadows Walk - September 11 2016 - Thanks from Lifeline here
Lifeline's 'Out of the Shadows' walk aims to remember those lost, and those bereavedby suicide. People connected to the Macedon Ranges, joined Alannah McGregor from Bendigo Suicide Prevention Awareness Network to reflect, remember and walk together.
The National Suicide Prevention Conference provides a platform for the exchange of ideas to help achieve our agenda of halving suicides in Australia over the next ten years - July 24-27 2016.
11 July 2016 – Peer Support Information Night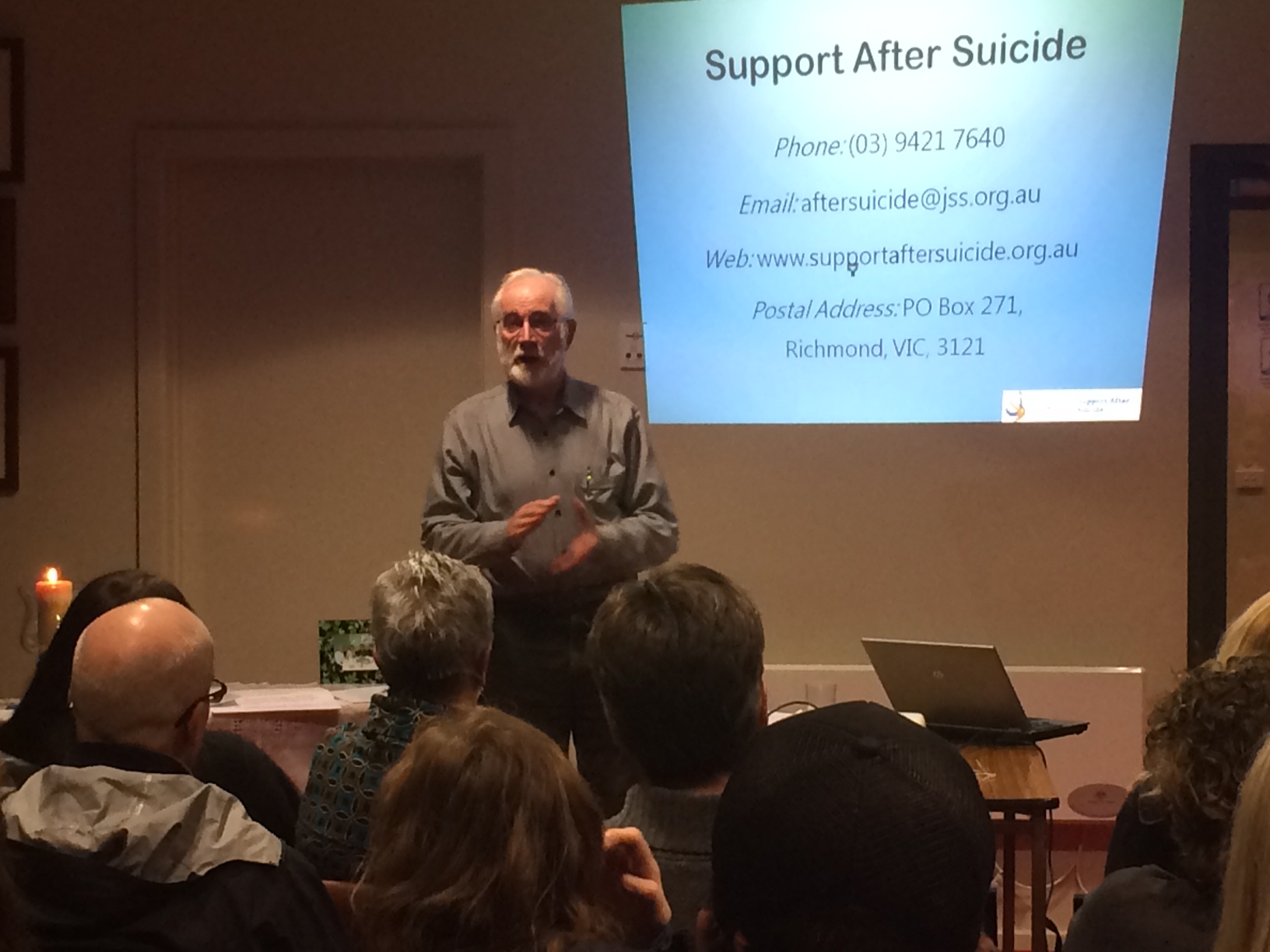 A full house! The night provided information for those bereaved by suicide. Guest speakers included; Louise Flynn, Jesuits support after Suicide, along with two of our amazing peer support volunteers, Gerry Leahy and Lynsey Ward. Both spoke about their loss and the unique support offered by others bereaved by suicide. Monthly meeting continue for those bereaved by suicide details can be found here.
SPAN Walk
In March each year the Suicide Prevention Awareness Network Central Victoria orgainse a walk to remember loved ones, friends, work or school mates lost to suicide. The walk is also a chance for the general community to show support for those impacted by suicide and learn more about the issue
Out of the Shadows Lifeline walk in Woodend Sept 2015